HEREFORD: The Most Profitable Beef Breed
There is no better time to buy a Te Taumata Hereford bull than now.
Science confirms that HEREFORDS are the MOST FEED EFFICIENT British breed.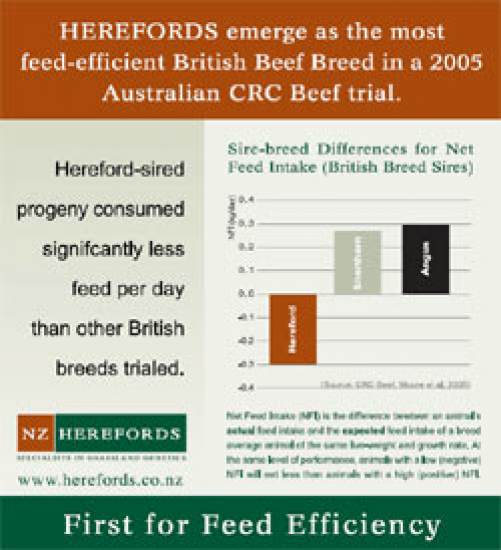 Results of the Australian Cattle and Meat Quality Co-operative Research Centre (CRC) research released last week showed Hereford-sired progeny had significantly lower net feed intake (NFI) - that is, they ate less feed for the same body weight and performance - than Angus and Shorthorn-sired progeny. The findings were presented at the Association for the Advancement of Animal Breeding and Genetics (AAABG) conference at Noosa, Queensland in October 2005.
This translates to cows that require less feeding and fat stock that will produce more kg of carcase weight for the same amount of pasture eaten.
By using TE TAUMATA POLL HEREFORD BULLS you gain efficiency, in addition to the well known attributes of the Hereford cow as a highly maternal, effective forager, with excellent temperament and greater longevity. Hybrid vigour will also increase profitability in crossbreeding programmes.
Further reading:
CRC summary brochure | CRC Feed Efficiency data document